CCAC – Slovo Kitchen
The Century City Athletics Club together with a few other important and valuable people and institutions started the Slovo Breakfast Run.
The Breakfast Run started as a small feeding scheme for our junior runners from Joe Slovo who were struggling for food during the initial lockdown. We started with just giving some food parcels to them and they would share it out as much as they could with their community. In trying to help more children who were no longer being fed at school because of them being closed due to the lockdown, we met some key people who helped us with our small beginnings – making 6 buckets of porridge and feeding in three locations in Joe Slovo. 1 bucket amounts to approximately 80-100 small children. With over 5000 Children in Slovo we had no chance.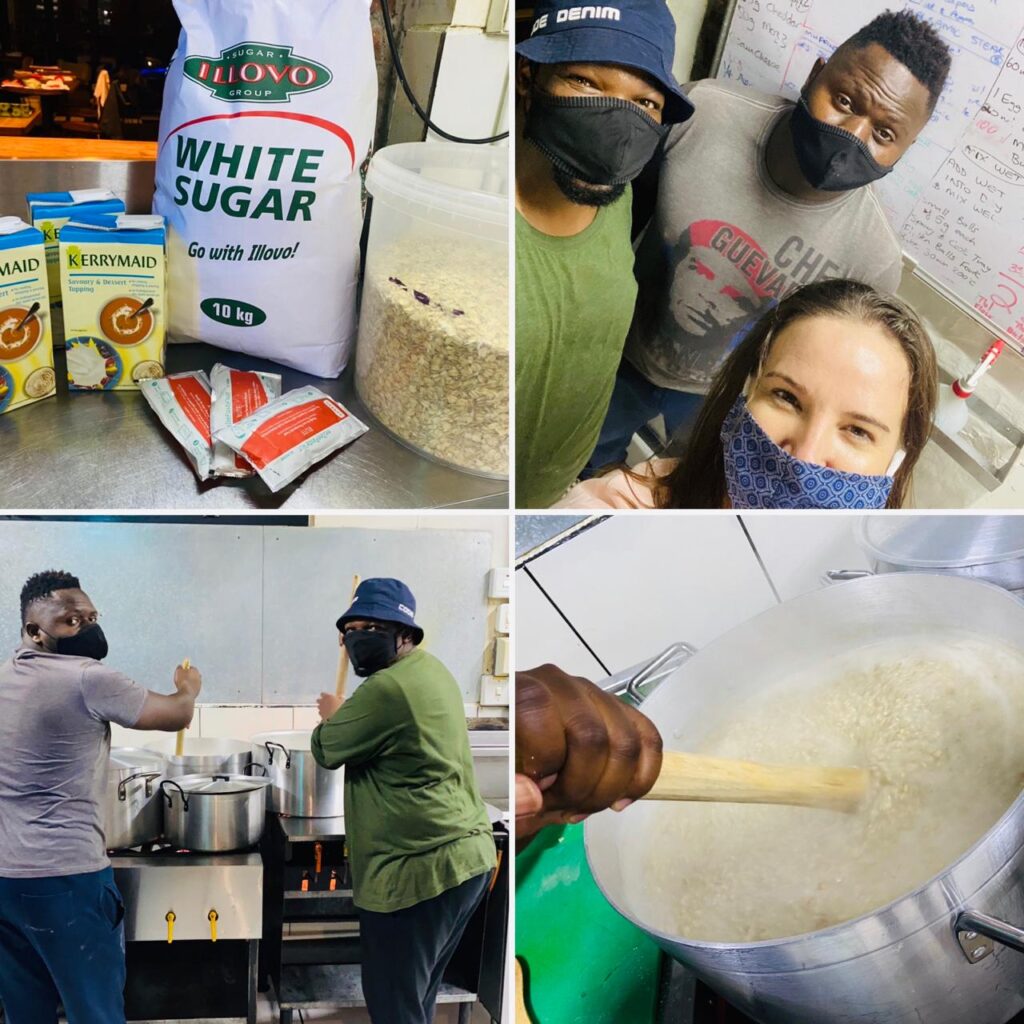 The head mistress at the school, Sinenjongo High School, helped to introduce us to the community and their leaders, this was an important requirement to get their support if our idea had any hope of working.
Many people made this work.
The Milnerton CAN and the incredible Ladles of Love arranged that we had enough ingredients to cook for over 1000. They resupply us almost every 3 days with more and more.
The Bricklane Eatery, opened their closed down restaurant to allow us to use their facilities: their stoves and many of their Staff to help us cook these meals every day.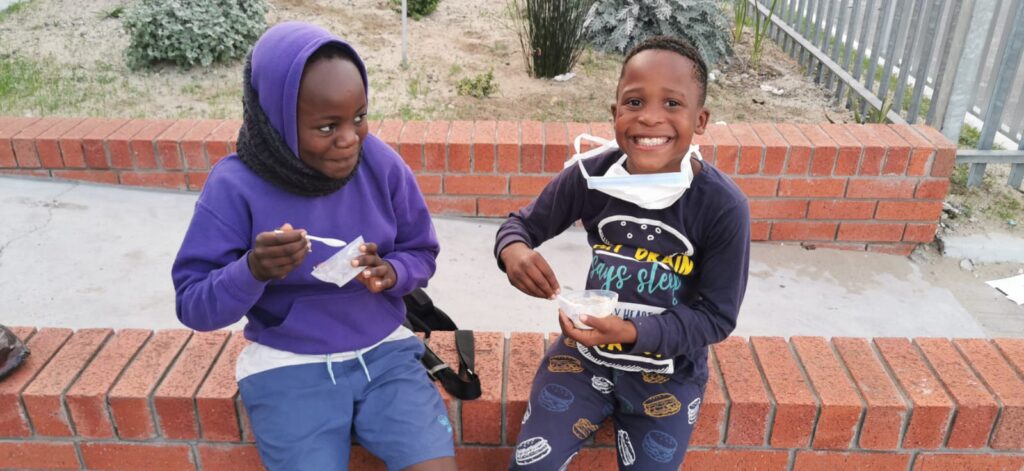 With the very generous donations from Ladles of Love, the free use of the kitchen and staff from Bricklane Restaurant and the equally generous support from our running club members and their extended circle, we grew the Breakfast Run into what it currently is – 25 buckets a morning, 10 stations, feeding over 2000 of children and many adults.  With the collapse and closure of schools, parents bore the responsibility to find money to feed their kids. Our small contribution helps the entire community, uplifting their daily task to find money in a way that keeps the hunger away from the door.
The Joe Slovo Community have and are an integral part of the process as they help us with the feeding of the kids in each station. Mothers of the community pair up come rain or shine, standing ankle deep in water, serving their children and all the neighbourhood kids. This component has been a very moving experience to see their absolute dedication in spite of the recent fires, police riots and poor weather, not to mention the sewers pouring out into their homes and streets.
We hit a problem with Level 3 of Lockdown, where the Bricklane owners needed to reactivate their restaurant in order to survive. Our incredible cooks, the club member volunteers, that were all patiently cooking a barrel a night from home, also had to get back to work and recover their own families and lives.
By some incredible twist of fate, we met a group of people from the community that had the facilities we needed. Now known as the Slovo Kitchen. This building is being managed by a group of Slovo Citizens eager to take up the task where we left off, learn how to do it and produce for themselves and their community. They just need a leg up to get the facilities right. We immediately recognised that if we helped each other we could get this working. Their equipment was old, broken and barely working, yet the first night they produced 12 buckets, the following night 25. They made a plan. The community, recognising this was their project, immediately kicked in and began assisting, with no remuneration for themselves. Within 2 days we were fully operational in the new kitchen. However, the equipment was not going to manage on a long-term basis. The gas stove was a problem. With the assistance of Bricklane and the Rotarians in the area they pointed us to Easy Gas, a fellow Rotarian. Easy Gas jumped at the opportunity, and within 3 days of meeting us replaced the stoves with 2 loan units while they clean and repair the old unit, all at no cost. The new stoves were specked, setup and installed within 3 days.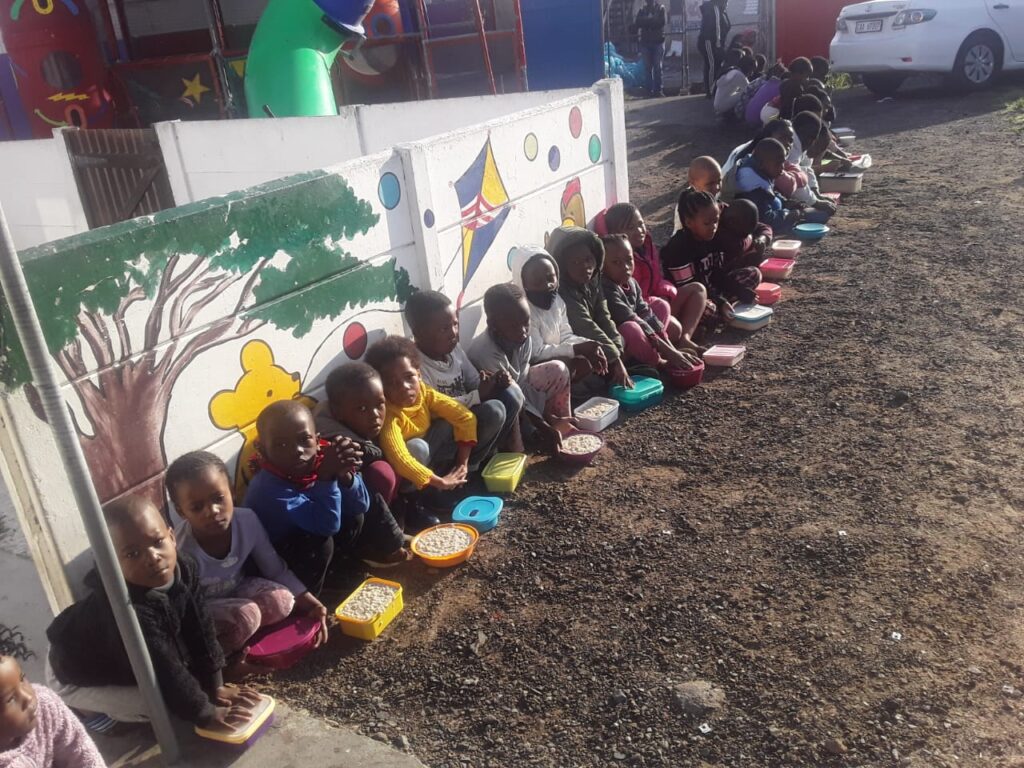 In order to make this a stable and permanent feature in Slovo, we needed to build a proper kitchen. With mentorship, we can create a business here, with an ethnic restaurant that serves the community on the one hand while at the same time will be able to be a self-sustained business in the long term. This is a project of dreams, to be able to serve the community, feed thousands of people while the need exists, but then become a viable business in the future.
Currently all the buckets, gas, stoves and some of the kitchen staff small salaries are being paid by the Club, sponsors and the man whose vision has catapulted this project, Steve Akester.
We would like to raise R150 000.00 in order to set up the kitchen and make a sustainable community feeding program that will go on after the lockdown.
We would use this money to put in a permanent Stove installation, and additional facilities to make a viable concern. We have Bricklane's skills and expertise in the restaurant business to advise and mentor.
The existing infrastructure is already good, there are extractor fans, stainless steel tables and various items already, including massive fridges and freezers. We would like to add stoves, coffee machines, fryers, ovens etc. Slowly building this up. Mostly we will use second hand and donated equipment. Easy Gas has already provided a quotation at cost for all the gas systems required. We are looking to create a Gateway here, a Gateway to Slovo, a Gateway to the community and a Gateway to our hearts.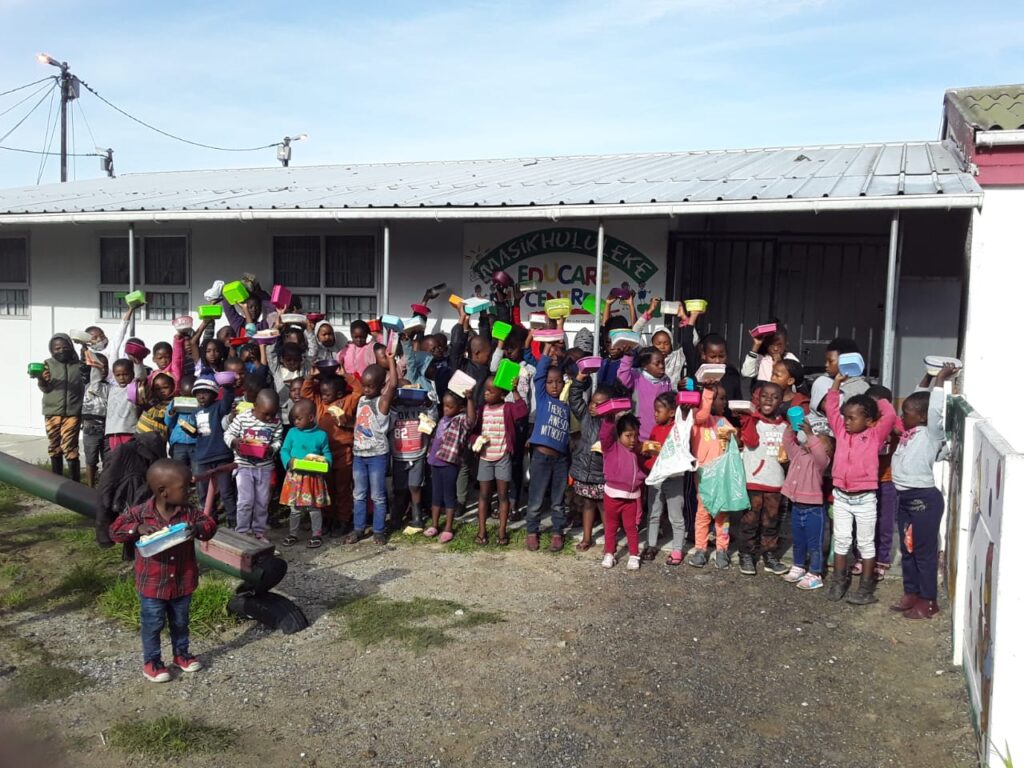 Our wish list:
Stoves, Oven, Coffee Machine, Heaters, Pot Washing station, Fryers etc.
The Century Running club is also making a major contribution to this, turning a major component of its development fund into the project with a view to training and employing many of the young men that are runners for the club.
We will happily accept monetary or physical donations of items. The Century Running Club will make sure all donations are used for their intended purpose.
https://www.backabuddy.co.za/champion/project/slovo-breakfast-kitchen